COVID-19: The State of the Pandemic
It's been nearly one year since the onset of the coronavirus pandemic, and while we have made great strides, there is still a long road ahead. Join us as we cover what's been happening the past 10 months, as well as updates regarding the COVID-19 vaccine.
Together, we'll review what we know about COVID-19, including:
How to stay healthy

Precautions to consider

Symptoms

Testing

Vaccination updates
When: Monday, February 15
Time: 2:30 PM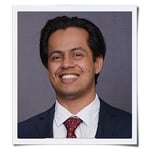 Expert Presenter:
Richie Manikat, M.D.
Dr. Richie Manikat is an Internal Medicine Specialist in Denton, Texas. He graduated with honors in 2011. Having nearly 10 years of diverse experiences, especially in Internal Medicine, Dr. Richie Manikat affiliates with Texas Health Presbyterian Hospital Denton and cooperates with many other doctors and specialists in medical group Texas Health Physicians Group.