The Truth About Wills, Trusts & Estate Planning
With the COVID-19 crisis, people are writing their wills and doing their estate planning faster than ever before, many times through online services. Though well-intentioned, online "do-it-yourself" plans almost always end up in court and are not the best protection for you or your families. Wills, Trusts and Estate Planning does not have to be overwhelming or confusing, but are more than just "fill in the blank."
Join Fred O. Haiman, esq., founding attorney at Haiman & Hogue in this complimentary, no-obligation webinar as he discusses:
Better alternatives to online wills and trusts

The basics of estate planning, including wills, trusts, powers of attorney and advance medical directives.

Documents you need to make sure your wishes are carried out in the event of your incapacity or death.
When: Thursday, November 12
Time: 2:00 PM
Expert Presenter: Fred O. Haiman, esq. Founding Attorney Haiman & Hogue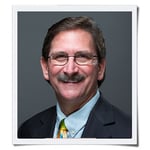 Fred O. Haiman, esq., earned his Bachelors of Science in Criminal Justice from Southwest Texas State University; Masters of Arts in Public Administration from University of Texas El Paso; and his Juris Doctor from Texas Tech. He is a member of the Texas State Bar and Collin County Bar Association and has been an attorney for over 20 years.