8 Costly Mistakes Families Make In Their Estate Plans
Did you know less than 33% of Americans have a will or estate plan in place. Although 60% of people surveyed think estate planning is important, it is often seen as a daunting task! If you don't currently have a plan in place to protect your family and assets or if it's been at least three years since you've last looked at your old estate plan, join us for this complimentary, no-obligation education event.
Brandon McGee of McGee Law Firm will host the workshop where you will learn how to avoid common mistakes in estate planning as well as:
• The advantages and disadvantages of Wills and Living Trusts
• How to protect your children's inheritance from their future ex-spouses, lawsuits, and other claims
• How to preserve your estate for your children if your surviving spouse gets remarried
• How to plan before you need Long Term Care
• PROBATE: What is it? How does it work? Why does everyone want to avoid it? How can you avoid probate altogether?
• How to distribute your estate to the people you choose and when you choose
• How to address the various needs of each of your beneficiaries now and how to adjust to their changing needs after you die
• How to avoid a publicly humiliating and expensive guardianship proceeding if you become incapacitated or disabled
• Planning for a family member with special needs or disabilities
• How to ensure your family is not torn apart over possessions and money
When: Tuesday, December 29
Time: 10:30 AM
Expert Presenter Brandon McGee Attorney McGee Law Firm, P.C.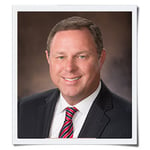 Brandon L. McGee is the co-owner of The McGee Law Firm. Brandon was born and raised in Dallas, Texas and attended Texas Christian University where he earned his B.A. in 1998. He graduated from Emory University School of Law in 2001. Today, Brandon enjoys a successful law practice focusing on estate planning, elder law, Medicaid pre-planning and crisis planning, VA Aid & Attendance, and probate. Brandon and his team combine legal skills with compassion and understanding to develop estate plans that are personalized to the needs of each of their clients. Brandon also believes proper estate planning goes deeper than just drafting the necessary documents, it includes building long-lasting relationships with his clients. Because of this philosophy, Brandon is able to help in every stage of life. He is a member of the State Bar of Texas, the National Academy of Elder Law Attorneys and is the only DFW member of the prestigious American Academy of Estate Planning Attorneys.
Attend for a chance to win E-Gift Cards & Prizes!