Is it Dementia or Alzheimer's?
Did you know that dementia is not the same thing as Alzheimer's disease? Most people don't realize the differences between the two, and that's okay. However, if you know the differences between Alzheimer's disease, other types of dementia, and unusual cognitive decline, you can better advocate for yourself or your loved one.
Join us as we learn about the differences between Alzheimer's disease and dementia, including:
What signs of cognitive decline to look for

When to schedule a doctor visit to talk about it

How to plan for the future if there is a diagnosis.
When: Tuesday, January 16
Time: 2:00 PM
Meet the Expert: Denise Vann, Outreach Coordinator, Alzheimer's Association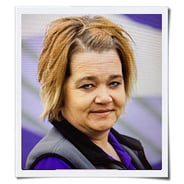 Denise has been working with the Alzheimer's Association for more than five years, dedicating her time to educating seniors, family members, and professional caregivers about the disease. She loves to give people reliable information about dementia to better plan for their future and maintain their health.