You Have to Laugh to Keep from Crying: How To Parent Your Parents
With grace and style – and a few mistakes along the way – you've raised your children, built a career, grew a family and may even be headed to retirement. Now, though, you may be facing the challenge of a lifetime – transitioning to a caregiver for a parent. Sometimes, parenting your parents can be even more overwhelming than parenting your own children. Join author Charlotte Canion as she gives you permission to laugh, cry, and to make mistakes as she gives you strength and encouragement while providing the tools to parent your parent.
Charlotte Canion, author of You Have To Laugh To Keep From Crying: How To Parent Your Parents, will teach you how to:
Empower yourself by putting on the armor of knowledge

Find humor in every situation

Discover the power of laughter and see how it will help you cope with the task of parenting your parents, a task that will be inevitable for most of us.
You will also discover
Love

Patience

Forgiveness

Trust

Respect

Dignity

Hope
Expert Presenter: Charlotte Canion, Author, You Have To Laugh To Keep From Crying: How To Parent Your Parent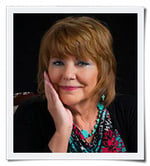 Charlotte has faced many challenges, including personal experience assisting her own parents with dementia, Alzheimer's and Parkinson's disease.
You Have to Laugh to Keep from Crying is a project that has lingered in Charlotte's heart for many years. She is happy to share her experiences with the world and hopes that her stories might ease the pain that many will endure, tempering the most difficult times with laughter. She won AMAZON BEST SELLER and Best Self-Help Book, as well as many other awards for her Speaking and Writing. Charlotte has written stories for several issues of "Stories by Texas Authors" which are in over 1000 libraries in Texas and will have a features story in the ANGELS ON EARTH magazine in March/April 2021 issue. She will soon release a children's book and another gardening book called "Flowers of the Bible". During the COVID Year of 2020, she has co-authored a book called "SPARKS-Ignite Your Way To Success". The Indie Beacon Radio Show is proud to call her "Host" for over two years. Charlotte continues to give back by speaking to different groups on various topics. Her passion is to Empower Other's to be the Best They Can Be and step out of their comfort zone, life is too short to just sit around.
By attending, you'll have a chance to win a copy of her book, You Have To Laugh to Keep From Crying: How To Parent Your Parents