Boosting Immune Health in the Face of COVID-19 and the Flu.
Your immune system is a highly intricate network of cells and molecules designed to keep you free from infection and disease. It's essential for survival and our first line of defense against Covid-19, the flu, common cold and other viruses. If we all have an immune system, then why are adults over 55 especially vulnerable to the coronavirus, flu and other pathogens? What happens to the immune system and can you improve your immune health as you get older? The answer is yes!
You're invited to a complimentary, very timely webinar where Dr. Saundra Dalton-Smith will teach you:
Immune health basics

How aging processes an impact the severity of viruses and other diseases

Evidence-backed suggestions on how to promote healthy aging and boost your immune health

Lifestyle changes that support a healthy immune system
When: Tuesday, September 22
Time: 11:00 am EST | 10:00 am CST | 9:00 am MST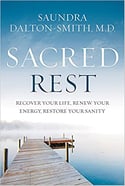 Attend the event for your chance to win one of 25 copies of: Sacred Rest: Recover Your Life, Renew Your Energy, Restore Your Sanity
Meet Our Presenter:
Dr. Saundra Dalton-Smith


Dr. Saundra Dalton-Smith is an author, speaker, and board-certified internal medicine physician near Birmingham, Alabama. She received her B.S. in Biochemistry at the University of Georgia and graduated with honors from Meharry Medical College in Nashville. She has practiced clinical medicine for over 20 years. She has been an adjunct faculty member at Baker College and Davenport University in Michigan teaching courses on health, nutrition, and disease progression. Dr. Dalton-Smith is a national and international media resource on the mind, body, spirit connection, and a top 100 medical expert in Good Housekeeping Doctors' Secrets. She has been featured in many media outlets including Women's Day, Redbook, First For Women, MSNBC, Prevention, Fast Company, Psychology Today, and as a guest on Dr. Oz show. She is the author of Set Free to Live Free and Come Empty (winner 2016 Golden Scroll Nonfiction Book of the Year and 2016 Illumination Award Gold medalist). Her newest release is Sacred Rest: Recover Your Life, Renew Your Energy, Restore Your Sanity, including ground-breaking insight on the seven types of rest needed to optimize your productivity, increase your overall happiness and live your best life.