The 10 Most Important Things To Know About Dementia Caregiving
For every person with dementia, there is at least one caregiver – usually an unpaid family member. Maybe it's you. Unfortunately, being a caregiver for a parent or spouse with dementia doesn't come with an instruction manual. Navigating the sometimes-difficult behaviors, emotions and anxieties can be challenging. Don't do this alone. Let Rachael Wonderlin help.
In this complimentary webinar, Rachael gets to the "heart" of dementia caregiving with humility and humor. You'll learn:
A comprehensive approach to caregiving including tangible, useful tips

How to navigate your loved one's environment, live in their world and understand their perspective

Creative at-home engagement ideas



Enter your address for a chance to win one of 25 copies of Rachael's book, Creative Engagement.
When: Wednesday, October 14
Time: 11:00am MST | 12:00pm CST | 1:00pm EST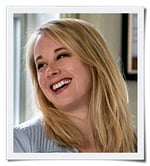 Guest Presenter: Rachael Wonderlin, MS, Dementia Author & Consultant Founder, Dementia by Day LLC
Rachael Wonderlin received her Master's of Science in Gerontology from the University of North Carolina – Greensboro and is a national dementia consultant, training professionals and families in caring for those with dementia. She has authored two books, Creative Engagement and When Someone You Know Is Living In A Dementia Care Community (both published by John Hopkins University Press). Through an online training program, blog and podcast, Dementia by Day, she educates and inspires caregivers around the country. She has been serving people with dementia, their families and caregivers for nearly 15 years.
By attending, you'll have the chance to win a free copy or Rachel's most recent book, Creative Engagement: A Handbook Of Activities For People With Dementia.