Tune In: Why Music Improves Mood, Memory & Motivation
As the world becomes more complex, society continues to seek new ways to feel more connected. In so many ways music provides the opportunity to build that bridge. At the simplest level music brings more meaning into moments. And, at a more complex level music impacts brain function and human behavior reducing stress, pain, and symptoms of depression as well as improving mood, memory, and motivation.
Since beginning her career three decades ago, Jennifer Buchanan, an award-winning Music Therapist and Author has witnessed the power of these music connections with infants through to seniors, from the corporate boardroom to the palliative care unit, from the classroom to correction center, and for people struggling with their mental health to those living with dementia. The results are nothing short of inspiring.
Using clinical evidence and compelling stories of how music affects people's lives, this complimentary webinar will help you tune in to all the ways music can be used more intentionally; to boost mood and restore feelings of wellbeing at home, work and in life.
In this engaging and eye-opening session, you will:
Explore new research that amplifies the work happening at the intersection of music, health, and neuroscience

Hear real stories that demonstrate how music - when used with intention - can reduce stress and anxiety while igniting creativity required for new ideas and problem-solving

Identify how music is a communication bridge, one that can help individuals express and process their most significant life challenges, difficult transitions, and at times, an unexpected health crisis
Based on her book of the same title, Tune In will demonstrate that when we experience the right music, in the right way, transformation can and does happen...one simple, yet powerful, note at a time.
When: Tuesday, October 27
Time: 11:00 AM EST | 10:00 AM CST | 9:00 AM MST
Expert Presenter: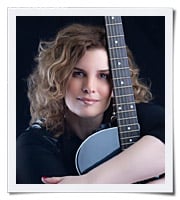 Jennifer Buchanan, MBA, MTA
Jennifer Buchanan is a Music Therapist, founder of JB Music Therapy, author of two award-winning books and Past-President of the Canadian Association of Music Therapists. Jennifer is the recipient of the two most prestigious Canadian music therapy lifetime service awards: the Franni Award and the Norma Sharpe Award. She has served as the President for the Canadian Association of Music Therapists for 5 years and has been an invited keynote speaker at national and international conventions speaking on music therapy and health entrepreneurship to a wide variety of education, healthcare, government, small business, and corporate audiences. As an author of two award-winning books – 'Tune In' and 'Wellness Incorporated' she has appeared as a guest on numerous news and current affairs programs including Fox News Health, NBC, CBS, CBC Radio, CBC Television, CTV, Global TV, and has been featured in publications such as The Guardian, The Huffington Post, Chatelaine Magazine and Canadian Living. In addition to her Music Therapy education Jennifer has her Executive MBA specializing in social entrepreneurship from the University of Fredricton.
"Through her work, Jennifer has touched many people in ways that could only be accomplished with both her special gift and her music – one of the most heartwarming experiences of my life." - Don Felder, Lead Guitar, The EAGLES
Enter your address for your chance to win one of 25 copies of her book, Tune In: A Music Therapy Approach to Life.