the Solution to Your Resolutions
These Top 5 most common New Year's Resolutions may look familiar, since almost everybody has made and broken them at one time or another. Fulfilling your resolutions does not take an iron will or superhuman discipline – it just takes moving in to Legend Senior Living. Here, you get a vibrant lifestyle with new friends and neighbors; personalized service; and expert care. And when you move in now, you can save up to $15,000!
COVID-19 Priority Vaccination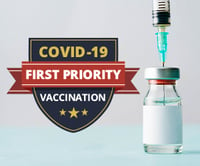 Residents at Legend Senior Living are in the priority group for receiving the COVID-19 vaccination before seniors who live at home. We can see the light at the end of the COVID-19 pandemic tunnel, and residents are celebrating the additional peace of mind that comes with receiving a vaccination as soon as it becomes available.
#1 Resolution: Spend More Time with Family & Friends
The Legend Senior Living Solution:
Making new friends is easy at Legend Senior Living – it's what most people move here for. Jump right into Life Enrichment activities and find like minds. Take advantage of the Purposeful Design of the residence. With a courtyard, front porch and plenty of common areas, ours is a place built around activity and social connection.
#2 Resolution: Eat Healthier
The Legend Senior Living Solution
Choose your meal from our chef-prepared, dietician-designed menu, freshly prepared and delivered with a smile. Snacks and beverages are also available 24 hours a day in our bistro.
#3 Resolution: Exercise More
The Legend Senior Living Solution
Move away from the couch and TV and meet with friends for light daily routine exercise as part of our Life Enrichment program. An on-site Fitness Center is also available.
#4 Resolution: Learn Something New
The Legend Senior Living Solution
With more than 100 monthly scheduled activities on the calendar, including crafts and hobby classes – you'd have to try pretty hard not to learn something new every day at Legend Senior Living.
#5 Resolution: Read More
The Legend Senior Living Solution
There's a fully stocked library and quiet reading areas just waiting for you. Connect with other readers in the residence and join or form a book club. No matter what you read – books, magazines or newspapers – you'll have more time to do it at Legend Senior Living.
How do I save up to $15,000?
Offer valid for new residents who take financial possession of a residence starting December
16, 2020. The promoted amount is provided as a $5,000 credit to the invoice in months 6, 18
and 30.
Can I accumulate credits?
The credits cannot be accumulated and must be used in months 6 , 18 and 30. However, any
amount of remaining credit will be applied to the next month's invoice.
Is the credit good for both rent and levels of care?
The credit applies to the complete invoice for that month, inc luding rent, care, medication
management and other miscellaneous charges.
What does my monthly rent include?
Your monthly rent includes traditional living expenses such as utilities, meals, activities and
housekeeping. You will be charged additional for medication management and/or levels of
care as necessary.
Is the discount available on Assisted Living, Personal Care and Memory Care apartments?
The discount off rent is available on all Independent Living, Assisted Living and
Memory Care apartments.
When does the offer expire?
This is a Limited Time Offer and can end at any time.
Learn More About This Exclusive Offer
LIMITED TIME OFFER. APARTMENT MUST BE OCCUPIED FOR THE DURATION OF THE INCENTIVE MONTHS TO RECEIVE CREDIT. $5,000 INCENTIVE IS PROVIDED IN THE FORM OF A CREDIT TO THE INVOICE AND WILL NOT BE GIVEN IN CHECK OR CASH. ALL CREDITS EXPIRE AND ARE FORFEITED TO LEGEND IF RESIDENT MOVES OUT. LEGEND SENIOR LIVING MAY DISCONTINUE THIS PROMOTION AT ANY TIME AND WITHOUT NOTICE. CONTACT RESIDENCE FOR ADDITIONAL DETAIL.