6-Month Check-Up:
The State of the Pandemic
It has been 6 months since the nation and state became infected with COVID-19. And while the virus still poses a significant threat, we have learned much, are working on vaccines, working to slow the spread and more. What have we learned? What research is being done? Where are we headed? Join us for this thoughtful discussion on COVID-19 to get a better understanding on the state of the pandemic.
Presentation Objectives:
To provide an overview of COVID-19 including its clinical features, diagnosis and current treatment modalities

To discuss the current pandemic and its course

To dispel common misconceptions surrounding COVID-19

To review current knowledge on prognosis of the disease and mitigation strategies
When: Thursday, October 22
Time: 2:30 PM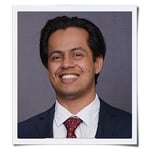 Expert Presenter:
Richie Manikat, M.D.
Dr. Richie Manikat is an Internal Medicine Specialist in Denton, Texas. He graduated with honors in 2011. Having nearly 10 years of diverse experiences, especially in Internal Medicine, Dr. Richie Manikat affiliates with Texas Health Presbyterian Hospital Denton and cooperates with many other doctors and specialists in medical group Texas Health Physicians Group.