Elder Law & Estate Planning
Does estate planning make your head spin? Are you overwhelmed when it comes to financial decisions as you approach and enjoy retirement? You aren't alone. Many retirees find financial planning cumbersome and confusing, but one thing is certain: you can't avoid it.
Become an active participant in your financial decisions and advocate for your own financial peace of mind. How good would it feel to know that all of your financial goals are on track? You can do it, and our presentation is an excellent first step.
Join us as we cover:
Common mistakes in estate planning

FAQs about elder law and estate planning

Ensuring your financial plan is ready and waiting to work when you need it




When: Thursday, February 25
Time: 10:30 AM
Meet the Expert Brandon L. McGee, Attorney-at-Law, McGee Law Firm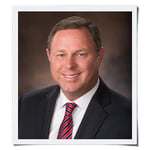 Brandon is the co-owner of The McGee Law Firm. Born and raised in Dallas, he returned to practice law after graduating from Emory University. He is passionate about helping families and he does so by guiding them through estate planning, elder law, and Medicaid pre-planning and crisis planning issues. He is a dedicated husband, father, and serious TCU Horned Frogs fan.