Laws of Estate Planning
Overwhelmed about the estate planning process? Join us for facts and encouragement.
For many older adults, estate planning is on their important to-do list. Unfortunately, you may feel overwhelmed, confused, and frustrated before finally quitting your estate planning tasks.
Join us as we get the estate planning facts from an experienced lawyer. Together, we will decipher what estate planning laws really mean and what those laws mean for your future goals. Bring along your questions and get ready to take some notes. We're thrilled to be able to break down this complicated process into simple terms we can all understand and put to use.
When: Thursday, March 18
Time: 12:00 PM
Meet the Expert: Michelle Robles, Esq Founder and Managing Attorney of Robles Law, PA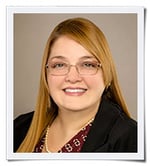 Michelle is a graduate of Stetson University College of Law with an L.LM in Elder Law. She is an Adjunct Professor at State College of Florida as well as a practicing attorney. She specializes in estate planning, elder law, Medicaid, and VA benefits.