Wicked Weather
Spring is here, which means we must be prepared for severe weather!
Living in Kansas in the spring means we all must be extra vigilant when it comes to unexpected severe weather. Fortunately, systems in place can save lives, including the professionals on our local television channels. Join Sarah Fletcher, a favorite from Storm Team 12, as she talks to us more about how to stay safe during inclement weather.
Sarah will give us tips about how we can prepare now for severe weather and what to do when the forecast takes a turn toward ominous. She'll also wow us with her own stories of weather she has reported on, from blizzards in Montana to tornados here in Kansas. Don't miss this opportunity to learn from a true expert and local favorite!
When: Thursday, April 15
Time: 10:00 AM
Meet the Expert: Sarah Fletcher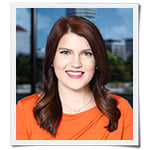 Sarah joined Storm Team 12 in the fall of 2016. Growing up in north Texas, her love for weather started at a young age as she became fascinated with storms. With a B.S. in Meteorology from Texas A&M University, Sarah got her first TV job in Great Falls, Montana, before heading to East Texas and then Kansas. Through it all, she has studied the rapidly changing weather and finds ways to give viewers the information they need to stay safe.