Happy New You! Learn Easy In-Home Exercises
Many people, even you, may make "get healthy" and "exercise" at the top of their New Year's resolution list. But with social distancing protocols and even recent gym closures or reduced hours, you may be wondering how to keep up with your 2021 wellness goals. Join Wendy Williamson of Williamson Wellness for this free 30-minute session that will help you start 2021 with a wonderful perspective on exercise that makes it simple for you to do in your home anytime.
When: Wednesday, February 17
Time: 2:00 PM CST
Expert Presenter Wendy Williamson, PhD Certified Functional Aging Specialist Williamson Wellness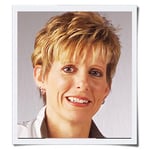 When it comes to fitness training, it's no exaggeration to say Wendy A. Williamson wrote the book. She continues to research, write, and take continuing education courses to advance her skills and knowledge. With a Ph.D. in Health and Human Performance from Oklahoma State University and recognition in 2005 and 2006 by the American Council on Exercise (ACE) as one of the top three personal trainers in the U.S., Wendy Williamson is one of the industry's most recognized and respected training consultants.
Credentials
Ph.D., Health and Human Performance: Exercise Science

ACE Certified Medical Exercise Specialist (CMES-ACE)

Corrective Exercise Specialist (CES-NASM)

Certified Functional Aging Specialist (CFAS-FAI)

Reebok Reactive Neuromuscular Training Specialist (RNT)

Personal Trainer, American Council on Exercise (CPT-ACE)

Personal Trainer, National Academy of Sports Medicine (NASM)

ACE Advanced Health & Fitness Specialist: Chapter author: Posture & Movement, 2008

2005, 2006 ACE Achievement Awards