Isolation and Its Effect on Dementia
Learn that, without healthy socialization opportunities, people living with dementia can deteriorate more quickly.
COVID-19 has drastically altered life for all of us. However, due to an increased risk of severe complications, the pandemic has especially impacted seniors. Most seniors have chosen to change their regular habits, including limiting their social opportunities, to minimize their risk of being exposed to COVID-19. For someone living with dementia, the world may already become smaller just due to the impact of the disease. Isolation can make it much worse.
Join us as we talk about how social isolation has especially affected those living with Alzheimer's disease and other types of dementia. We'll talk about:
The risks of isolation

How isolation affects the brain

Other factors for family members to consider

How to encourage and facilitate healthy and safe socialization
When: Thursday, March 11
Time: 11am MST | 12pm CST | 1pm EST
Meet the Expert Dr. Sandra Petersen, DNP, APRN, FNP-BC, GNP-BC, PMHNP-BE, FAANP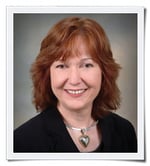 Sandra Petersen is the Director of the Doctor of Nursing Practice Program. She serves as an instructor in the Family Nurse Practitioner Program at the University of Texas at Tyler, Texas. After her undergraduate career, she earned an MSN from the University of Texas, several post-masters certificates, and a Ph.D. in Nursing Practice from Rush University School of Nursing in Chicago, IL. Among other accomplishments, in 2007, she received the Heart of Hospice Award from the National Hospice and Palliative Care Organization. In 2016, she was elected as a Fellow of the American Academy of Nurse Practitioners.
She has authored numerous articles relating to assisted living, memory care, hospice, home care, and nursing leadership in key related trade journals and throughout various educational documents. She professionally lectures throughout the country at seminars and before professional organizations; she has also served as an adjunct professor in the nursing education programs at the University of Texas at Tyler and East Texas Baptist University. Dr. Petersen is a member of the Assisted Living Federation of America (ALFA) Nurse Action Committee, the National Conference of Geriatric Nurse Practitioners, NHPCO, Texas Nurses Association, Sigma Theta Tau International, and the American Geriatrics Society. She was the recipient of the 2007 Heart of Hospice Award from the National Hospice and Palliative Care Organization. The Heart of Hospice National award recognizes efforts of NCHPP (National Council of Hospice & Palliative Professionals) members who have attained repeated outstanding achievements in hospice and made contributions with impact beyond hospice.